Despite what Sony and Microsoft both want you to believe, EA, not Activision Blizzard, is the publisher driving the majority of user engagement on consoles these days. That's according to research done by Ampere Analysis, and they've put out a lovely graph from which much can be gleaned.
EA has been consistently dominant over the past six months, no doubt, likely thanks to its excellent annual roster of sporting titles like FIFA and NHL. It has one of the better Battle Royales in Apex Legends, a GOTY 2023 contender in the excellent Dead Space remake, and the promising Star Wars Jedi: Survivor on the horizon. Your one friend still grimly playing Battlefield 2042 will tell you it's a lot better now, an assessment which might actually be accurate and is supported by rising player numbers.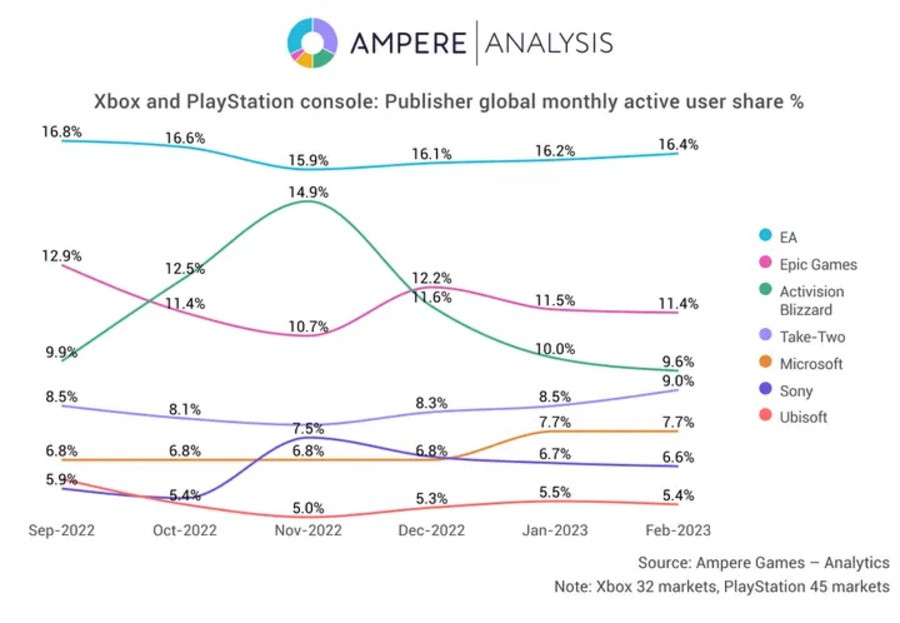 EA certainly seems to have found a release cadence and formula that works. Now watch as an even bigger fish attempts to acquire them, causing journalists everywhere to tear out what little hair we have left.
Are you surprised by this revelation? Do you foresee a disturbance to this balance in the future? It isn't likely to be Ubisoft, which ranks so low it's in danger of falling off entirely. Present your findings in the comments section below.