In what may come as a surprise to those constantly complaining about Sony's lacklustre handling of Classic titles on its subscription service, PS Plus Premium is actually more popular than PS Plus Extra by a pretty wide margin. New stats published in a Business Segment Meeting reveal the top tier has exactly eight million members while PS Plus Extra has 6.1 million users as of March 2023.
In total, 30 per cent of standard PS Plus subscribers have upgraded to one of the more expensive options, with Sony's latest member count coming in at 47.4 million last month. It's assumed most PS Plus members subscribe to the service via the yearly option, so the data viewable below expires just before those 12-month subscriptions would have ended.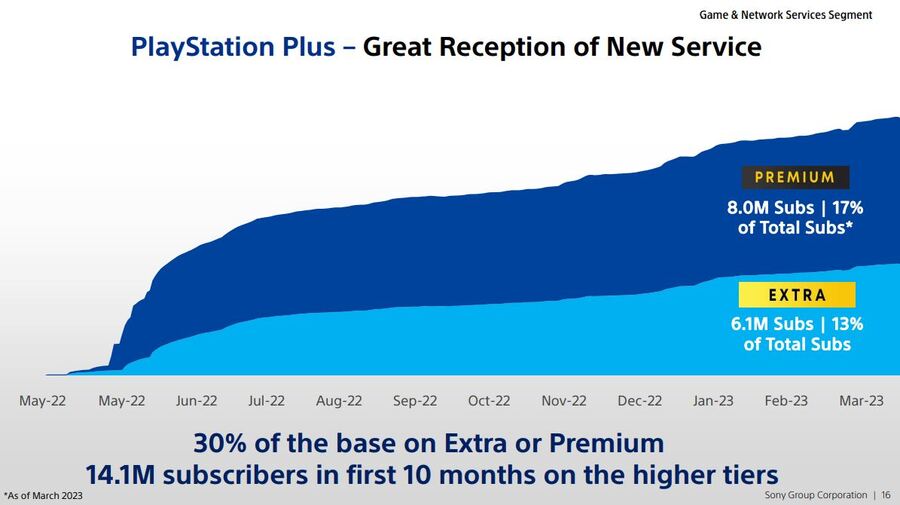 While there have been some acceptable months, PS Plus Premium is routinely slated for a poor selection of Classic games from the PS1, PS2, PS3, and PSP eras. It's great if you love Syphon Filter titles, but not so much if you're into anything else. No PS2 games have been added since the service's refresh last year, and PS3 classics remain only available via streaming. The latter is not expected to change.
In complete contrast, PS Plus Extra has been consistently killing it. Upwards of 17 PS5, PS4 games are added to the service each month, and almost all are of at least a good quality. Of course, PS Plus Premium users gain access to all those titles too, but it'll be interesting to see whether there's a notable drop off in top tier members when next year's data is released.