If you're still playing Horizon Forbidden West: Burning Shores, or plan to play it at a later date, we'd highly recommend you close this article before progressing further down the page. We'll be discussing spoilers for the final moments of the expansion below, and we don't want to ruin the experience for you, so you've been warned.
---
Warning: Spoilers Will Follow
Horizon Forbidden West: Burning Shores is an excellent DLC, as we already outlined in our review, but it actually includes a key piece of character development for protagonist Aloy. Those who've played both Horizon Zero Dawn and its sequel will be familiar with the character's stoic, disinterested personality – but during moments of the DLC, she displays real emotion.
Most of this stems from her relationship with new character Seyka, which it becomes increasingly clear mid-way through she's developing feelings for. The plot actually gets a little bit teen angsty, as the redhead's notorious monologues ponder whether she should be feeling nervous around her new ally and so on.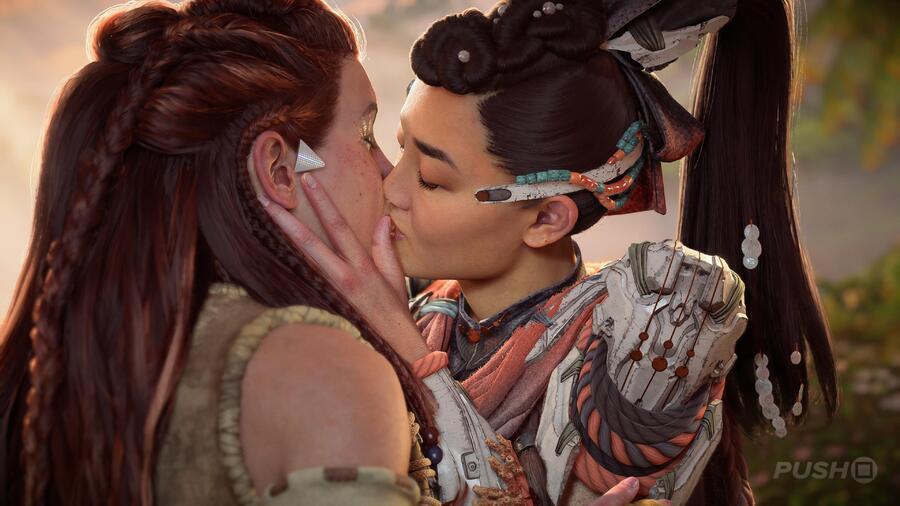 It's clearly telegraphed where things are going, and in the penultimate scene Seyka reveals that she wants to be with Aloy. This prompts a dialogue decision, where you can choose to either kiss her or tell her it's not the right time. All of the responses are somewhat romantic, and even if you decide against playing tongue twister with the Quen marine, it's still implied there are feelings there.
This is obviously a bit of a surprise, because Aloy has come across fairly asexual in previous instalments. There are a number of characters who attempt to flirt with her, specifically in Horizon Forbidden West, but she shows a complete lack of interest. That changes in Burning Shores, where we finally see her display some vulnerabilities.
In our opinion, the relationship feels a little rushed – almost like Guerrilla Games couldn't wait for the inevitable Horizon 3 to give fans what they want. But it's clear that this unexpected twist will have a huge impact on the story in the next game, as we fully expect Seyka to become a part of the party and play a massive romantic interest in Aloy's life.